Thorne-Sagendorph Exhibition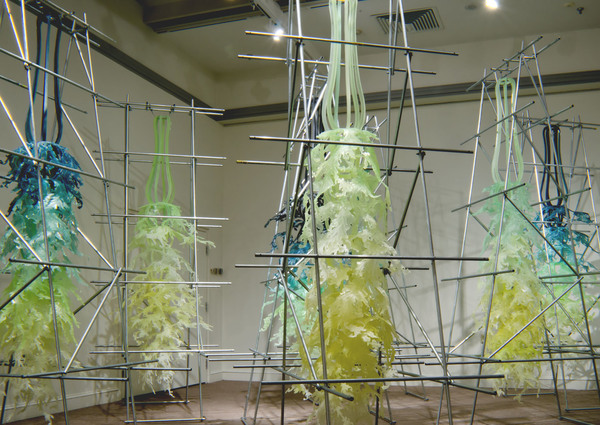 Art Faculty Biennial Exhibition
January 22–March 27, 2016
Eighteen full-time and adjunct Keene State College Art faculty present their work at the Thorne and participate in clusters of public talks, screenings, demonstrations, and other events. In collaboration with the Art Department, the Thorne-Sagendorph Art Gallery presents art, design, and hybrid forms—painting, digital printing, video, drawing, photography, installation, audio, printmaking, collage, conceptual works—that reveal the wide-ranging interests and approaches of the College's studio art and graphic design faculty. Public and off-site projects will be documented at the gallery.
---
Thorne-Sagendorph Gallery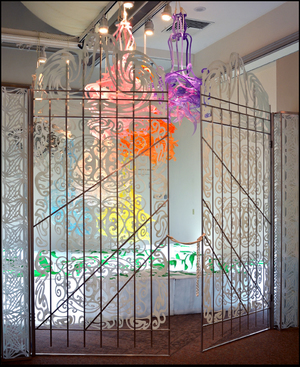 January 24 – March 13, 2014
---
Lynn Richardson: Inter-Glacial Free Trade Agency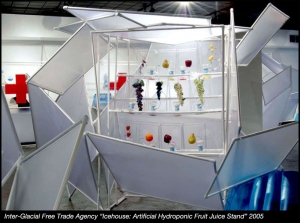 Lynn
Richardson: Inter-Glacial Free Trade Agency

January 26 - March 16, 2013
Buffalo Arts Studio is pleased to announce two exciting solo exhibitions featuring works by Ontario-based
photographer Andrzej Maciejewski and New Hampshire-based installation
artist Lynn Richardson.

A free public opening reception with complimentary food and cash bar will be held at Buffalo Arts Studio on Saturday, January 26, 2013 from 7-10 p.m.

www.buffaloartsstudio.org








---
Arctic Garden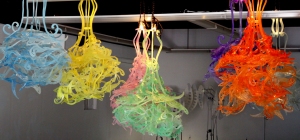 GALLERY 107 TO OPEN 'LYNN RICHARDSON: ARCTIC GARDEN' EXHIBIT THURSDAY
NORTH ADAMS, MASS- Beginning, Thursday, June 28, Downstreet Art Gallery 107 will present "Lynn Richardson: Arctic Garden." The exhibit will showcase a large scale installation piece by Lynn Richardson, an artist who Mass MoCA Curator Denise Markonish met while searching for artists for the Oh, Canada show which is currently on view at Mass MoCA (May 25-April 1, 2013). Lynn's work is an engaging narrative in response to industries damaging effects on landscape.
An opening reception will be held on Thursday, June 28, 5-7 p.m. The event is free and open to the public as part of DownStreet Art 2012 Kick-Off.
With renewed debates over rights to waterways and Arctic shipping routes, Richardson believes a new era of colonization will soon begin. By using British colonialism as a metaphor for the potential exploitation of the Arctic, Richardson uses sound, motion, light, and the physicality of the assembled pieces aided in her concept to engage the viewer. Although her work is intended to be playful, even humorous in order to soften the hard reality of the underlying message, it presents a critical examination of the "dichotomy between nature and our industry-driven culture and the devastating long-term effects our current courses of action will have on the environment."
Denise Markonish, curator of Oh, Canada, a show which represents the largest survey of contemporary Canadian art ever produced outside Canada, described how she was "thrilled to be asked by DownStreet Art to choose an artist from this vast research to exhibit in downtown North Adams as an extension of Oh, Canada. Lynn Richardson's work highlights the production of both a Canadian and New England artist and deftly negotiates the contested terrain of landscape. Richardson's work begins with the beauty of a "manufactured" English garden, which she conflates with issues of land ownership and environmental degradation currently facing the Canadian Arctic, providing a glimpse at an uneasy future."
Richardson has received awards from the Winnipeg Arts Council and Canada Council for the Arts, as well as presented her sculpture in numerous exhibitions throughout Canada, the United States, and Taiwan.
"Lynn Richardson: Arctic Garden" will be on view through August 26. Gallery 107 is at 107 Main St. in North Adams and is open Wed.-Fri.12-6, Sat.10-6 and Sun.10-2. For more information, 413.663.5253, or go to www.downstreetart.org.